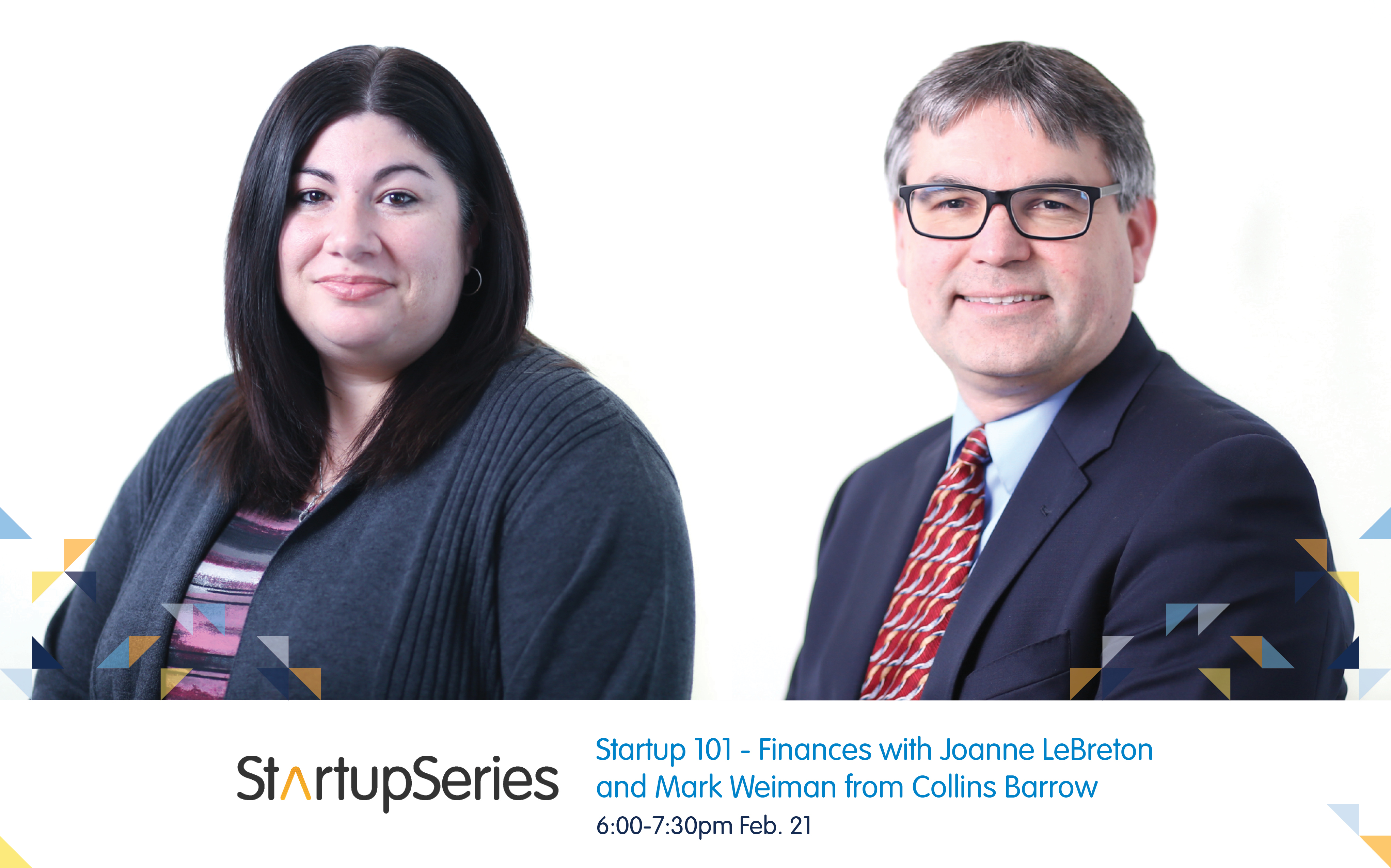 Cash is King, especially when you are launching your business.
The NORCAT Innovation Mill is hosting a Startup101 workshop for entrepreneurs interested in strategic financial planning for startups. This workshop is FREE and OPEN to everyone!
Whether testing the viability of a business idea, planning for a start-up venture's cash flow needs or determining the organization's financing requirements, a sound financial plan becomes the cornerstone of the overall business plan.
Whether you are currently working on a startup or would like to gain general knowledge on how to financially run a company, this event will guide you through the do's and don'ts of developing financial projections and building a sustainable business.
Joanne Lebreton CPA,CGA, MBA and Partner and Mark Weiman, CPA, CA, CBV from Collins Barrow will be exploring the establishment and benefits of that plan. You will be learning the fundamentals and basis of financial planning and financial statements
Bios
Joanne Lebreton
Joanne LeBreton is a graduate of both Cambrian College and Laurentian University and holds a Master's Degree in Business Administration, as well as a Chartered Professional Accountant's Designation. Joanne has been with the firm since 1993 and became a partner in 2011.
Offering a very approachable and hands-on style of working, Joanne has worked with a variety of clients including, individuals, family-owned businesses, corporations, professionals, not-for-profit organizations, and institutions. Through initiative and sincerity, she has earned her clients' respect and appreciation with her ability to clearly explain the results of their financials and Collins Barrow's work.
Joanne's passion for helping others achieve success is ambitious. Providing services in the areas of business consulting, bookkeeping, accounting, personal and corporate tax, Joanne has helped clients progress and further their success. With an earnest commitment, Joanne also extends that passion to staff, helping them grow and reach their full potential.
Mark Weiman
Noted for his integrity, Mark Weiman has been thriving in the accounting world for over 24 years. Having received his Bachelor of Commerce from Laurentian University in 1992, his CA designation in 1994, and CBV designation in 2000, he was admitted to partnership in 2007.
Professionally enthusiastic about helping clients, Mark has completed specialty work for financial institutions and small to medium-sized businesses, business valuations for matrimonial disputes, shareholder disputes, tax purposes, and loss of income calculations; as well as mergers and acquisitions.
Having never backed down from a professional challenge, Mark believes in hard work and making a difference. He helps clients understand the numbers on their financial statements and what happened during the year and how that impacted the company's financial results.
Outside of work, Mark can be found enjoying family activities, such as kayaking, skiing, sliding, playing soccer or swimming. He also actively participates in non-profit organizations involved with his kids' activities, seeing volunteering as an essential part of keeping these local community activities alive.
---
Startup 101 is a FREE course that provides practical, relevant, advice for those who are interested in starting their own business.